VFRR Online Video Tutorials Available Now!
Risk Intelligence is excited to announce the release of six structured online tutorials covering all aspects of the VFRR Online Portal. These tutorials are designed so that you can have easy access to relevant information through videos which run from 4-7 minutes each.
The videos cater for everyone - from first time view only users, to those agencies and LGAs who submit amendments.
The videos cover the following topics:
Accessing and navigating VFRR Online
How to use VFRR Interactive Map
How to add a new asset
How to amend an existing asset
Outputs
Treatments
To access the videos, simply login to the VFRR portal and click on the toolbox.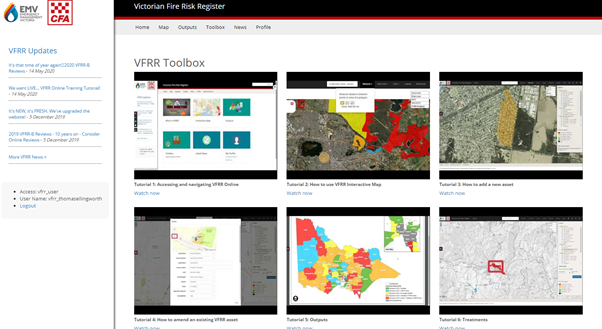 If you do not have access to VFRR online, you can register for an account by completing the online registration form.
Should you have any queries regarding these tutorials or the VFRR Portal, please do not hesitate to contact riskintelligence@cfa.vic.gov.au